Adlington soccer day nets life-saving funds for Lagan's Foundation
A football tournament to support good causes has helped a local charity fight the corner of parents with desperately poorly children.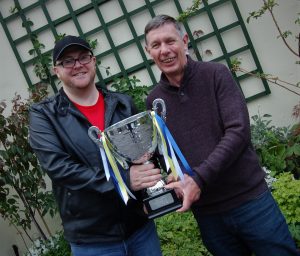 Teams in the popular Adlington Soccer Aid competition risked injury (including sunburnt heads!) to raise money for Lagan's Foundation, with community pub The Bridge serving grub and raffle prizes which included champagne, socks and a free MOT!
Caring for a child with heart defects or serious feeding issues can come with a heavy penalty – with carers sometimes collapsing under the pressure. Lagan's Foundation offers those families trained carers so that they can take a break and be on top form when looking after their kids.
Beginning as a small girls versus boys challenge, the Adlington Soccer Aid tournament has now become a key date in the town's charity calendar. This year, four teams took part with local youth side Adlington Junior Football Club lifting the trophy. Steve Smith, who doubled as goalkeeper for Adlington Stanley (!) as well as the coordinator of the competition, said: "Soccer Aid is all about fun and raising as much money as possible for charity. We talk about it for months before the tournament – and for months afterwards!"
Those taking part ranged from six-year-old children from Adlington Primary School to pub regulars in their 40's. Past recipients of cash from the event include MENCAP and the children's charity 4Louis. The £630 raised will be shared between Lagan's Foundation and the Fire Fighters Charity. The decision to support Lagan's came when organisers heard all about the case of a child born with severe heart problems from tournament official – Geoff the Ref!
"Everything about Adlington Soccer Aid is a winner" said Carren Bell, Chief Executive of Bolton-based Lagan's Foundation, "it has raised money that will help us with our goal of assisting often desperate families. It has given the community a real shot at coming together. And it has even tackled poor health by getting children and adults on the football field! English clubs may have dominated Europe and Manchester City played sensationally in winning the Premiership, but I make all the players and supporters of Adlington Soccer Aid the real champions – they have improved and possibly saved lives."
Adlington Soccer Aid thanks Dave McCoyd (football coordinator), Dave Thompson (photographer), The Bridge landlords Jon Howard and Dianne Dickinson (buffet, raffle and hospitality), all who donated prizes and cash donations including Nicola Kellie-Jones (chocolate treasures) plus match officials Geoff and Ben.
If you would like to know more about Lagan's Foundation and how you could become a fundraising hero get in touch with Charlotte on 01204 800300 or email charlotte@lagans.org.uk