Break with tradition and help children's heart charity
Brits are being asked to have a heart and donate £10 to charity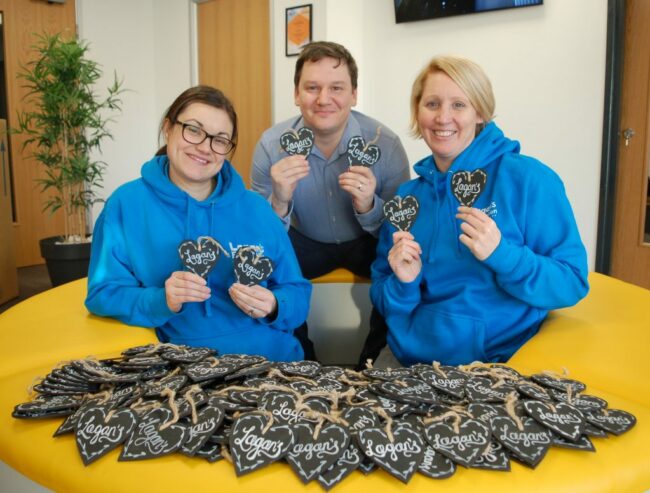 Brits are being asked to have a heart and donate £10 to charity – rather than waste that amount on tacky Valentine's cards and trinkets for their pets, their kids and even themselves.
An estimated £650 million was shelled-out on gifts on 14 February 2019 with 17% of the love-struck public spending cash on cats and dogs and nearly 15% treating yours truly. Meanwhile, 8 in every 1,000 babies born in the UK suffers from an often crippling heart complaint and families caring for these children have had services cut to the bone.
All of which has prompted charity Lagan's Foundation (who provide in-house carers for struggling mums and dads) to call on Cupid's consumers to "spread the love around" and help heal broken-hearted families.
The charity is offering personalised wooden love tokens to anyone who gives just £10 to their cause. Founder Carren Bell lost her dear daughter Lagan to a heart condition and will have her name written on her token – just as it is etched on her heart.
"From the days of Chaucer and courtly love, Valentine's Day has been a fun way to celebrate the one you love but it has now descended into a commercial free-for-all" said Carren. "I get that people are on a budget and that the simplest message can win over the coldest heart, but can't we be a bit less wasteful and find a few pounds to help those in greatest need instead of splashing out like it is Christmas again? Even cards can cost upwards of £5."
A cursory look through on-line shopping sites shows that among the fare on offer this year, is:
Inflatable lips
Pom-pom furry slippers and fairy lights
"Hello Handsome" shower gel and,
Valentine's Day cushion covers
Lagan's committed carers look after young ones from birth to late teenage years. Olivia is just one of the children they have aided and her mum said: "It's great to have someone from Lagan's and Olivia really loves her snuggles. It is great to have a carer around to support you, so that you have someone to talk to and it allows you to do things like housework and shopping. Thanks to them I feel so much better."
The charity is independent and largely funded by individual donations, though councils rely on its expertise to help hard-to-reach families. Like all charities of their size (and considerable impact) Lagan's believes that philanthropy is the key to keeping these services going.
"We face an inevitable battle of shortage of public funds and having to compete against large organisations and their expensive television advertising, vying for your money" continued Carren. "I would argue it is small concerns like ours that are making the most impact in our communities, plugging those holes created by a smaller state apparatus. We need people's love and kindness to continue the love and kindness we show.
A few pounds is all we ask. It has to be better than spending thoughtlessly on a poor quality box of chocolates!"
Designed by an artist from a Bolton church, the Lagan's Love Hearts will be displayed on a tree at the charity's headquarters. Anyone who donates will be given a certificate and their name and love message displayed on Lagan's website as a permanent reminder that when it came to caring for the country's sickest children – they had a heart.