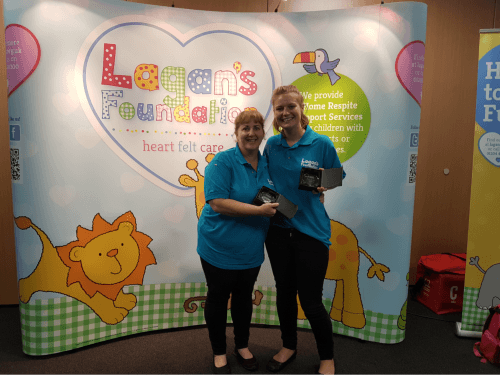 Home Support Conference 2017
Our first ever Training and Sharing day for our Volunteer Home Support Worker took place on Thursday 6th July 2017 at Bolton Arena in Bolton, generously funded by Big Lottery – Awards for All
July 2017 saw Lagan's Foundations first ever Home Support Conference which was only possible due to the generosity of Big Lottery – Awards for All and their funding.
I'm sure all will agree it was an excellent day, filled with important information, updates and news on what has been happening behind the scenes this year to date and also what the future holds for the charity and all involved.
CEO Carren Bell was joined by 11 of our trained volunteer Home Support Workers from all over the country. It was a great opportunity for volunteers to meet others who share their passion for supporting and caring for our families.
It was great to see everyone so enthusiastic about their roles and the families they have grown to love.
During the session items covered included:
The importance for correctly logging visits on Etap
Etapestry training, how to log visits on the calendar, who can see what, how to upload notes
Lone Working, the importance of keeping in contact whilst on visits, how do you stay safe
Safeguarding and what to do if you have any issues or concerns
Lagan's Care – what is it and what are the plans, how will it impact the charity
Funding – the changes is our financial situation and where our funding comes from, how our volunteers can help ensure we can continue to deliver our service and reach new families
CRP Training – a refresher
As well as the above 2 of our current Home Support Workers took centre stage and gave us an insight into why they joined Lagan's Foundation, what they have gained from their time and how they work with their families. It was great to see such passion from Lori & Patricia and how they have developed strong bonds with both the family and the child, on top of their own personal development. Thank you so much to Lori & Patricia for sharing your stories.
Another popular session was Volunteer Team Leader Kristy's Play Therapy hour. During this session Kristy demonstrated how easy it is to make interesting sensory items from items in the home or by purchasing low cost items from discount shops. Everyone enjoyed seeing these first hand and learning how to make them and the benefits they have to the children they support. These included items such as coloured rice in trays with trucks, fake snow, finger puppets, coloured foam zip lock bags, shaker tubs and may more. It was a great opportunity to touch and feel what can be achieved and to chat the rest of the team about other ideas they may have tried and tested.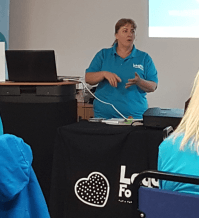 The highlight of the conference was the Team Building Challenge, the group was split into 3 teams who each had to build a section of a Rollercoaster. Each team had a different brief they had to include in the build such as a 2 metre drop or two changes in direction but the end goal was that the 3 piece joined together to make one large rollercoaster that had to transport a football from start to finish with no human intervention. The challenge was fantastic, it encouraged creativity and logic whilst working on their own section and also to consider the bigger picture of a fully working Rollercoaster. Items provided to make the Rollercoaster included cable ties, netting, rolled up newspaper pole, gardening cane, elastic bands, string and much more. A big thank you to Chillisauce Events who came to deliver the challenge.
We would like to thank all our Home Support Workers who attended on the day, we hope you had a fantastic day and took away something new from it.
We are looking at running another Conference on 9th November for all those who were unable to attend, if you would like to book your place please contact Charlotte on charlotte@lagans.org.uk. Places will be limited so will be allocated on a first come first serve basis so please get in touch as soon as possible if you would like to take part in this fantastic day.