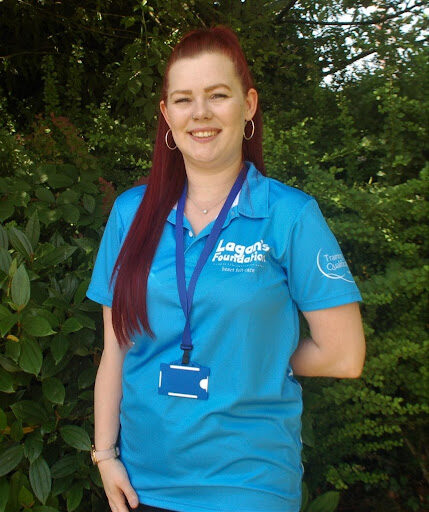 Teared-up tale makes Emily happy to answer charity's cry
The story of how a mum tragically lost her baby to a coronary condition but then formed a charity in her name has persuaded a local youngster to tear-up her career plans and instead follow her heart. 
Emily Holt, who hails from Oldham, had plans to make the headlines as a hotshot magazine reporter. But a tough time getting her foot in the door saw her take up a volunteering post at Lagan's Foundation, who send carers into the homes of sickly children.
And five minutes into a conversation with their founder Carren Bell had the 25-year-old "teared-up" and ready to use her skills to tell the world about the wonderful work the charity do – which includes over 11,000 hours of care during Lockdown.
"I just couldn't believe where you would find such strength to form a charity after such a tragedy" said Emily, whose grandparents live in Saddleworth and Chadderton, "the support Lagan's gives to families is amazing and there should be one in every town." 
Emily also believes the fact that she and her wife are planning a family was a significant draw to working for Lagan's. "We have sat down and spoken about what would happen if we had a child with a disability and we agreed we would take any situation on together."
That kind of can-do compassion sits well with Lagan's whose carers can do anything from working nights to make sure children breathe properly to taking their charges out to the zoo – now the Lockdown is over. Whatever the activity, Emily realises their support is vital to families, who have just had the stress of caring for their child during this tumultuous period.
Music fan Emily, who is a fan of Nickelback the artist behind worldwide hit, "Rockstar", is also passionate about helping young people achieve their potential. "When I told my family I was going to university they had their doubts. I didn't realise how difficult it would be to get work and I wrote to hundreds of newspapers and magazines with story ideas and offers of voluntary work. None of them got back to me. Someone told me recently it is better to have a driving license than a degree, but I believe Lagan's is a great cause and this could be my making!"
Emily's role will include writing blogs, helping to manage the new charity website, the running of their busy social media accounts and generally mucking-in with all things marketing. Carren Bell concluded: "Charities have had a rocky time during COVID, with many having to cancel events and find new ways of bringing in funds. Our autumn and winter will be packed with fundraising dinners, sky-diving challenges and even a Manchester music festival. Emily's feet may not touch the ground, but she will be helping some of the neediest people in the North West. If she keeps that in mind, she will make a huge difference and do our charity – and herself – proud."