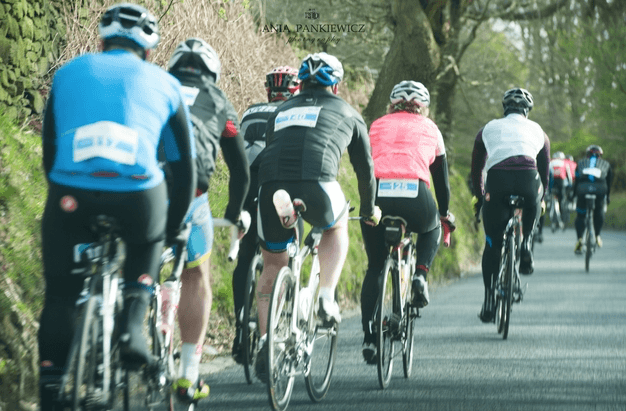 2017 Cycle Challenge
Some Came, Some Rode, Some Conquered!
Our thanks go to:
All of the Marshals
Defib Shop – Defibrillator
Asda – Water, Lucozade, Marshal pack goodies
Sophie Dobbs – The Little British Cake Company – Flapjacks
Anne Balshaw – Cakes
Motorcyclist outriders
Support Crew
Mark Crossley & Mark Coopeer – Drone Footage
2017 Cycle Challenge Reviews
Posted by 
Ian collings 
on 
Apr 23rd, 2017
Great ride today and brilliant support as always from the Lagans marshalls. It's my second year of doing it and it just gets better.
Posted by 
Carren 
on 
Apr 23rd, 2017
Having been a supported family for all of our journey to date with Lagan's, I'm incredibly grateful to all those who have dedicated their support and strength over the hills today to raise funds so that Lagan's can continue the work that they do. Without these individuals we would be in a much worse position as a family. Thank you! thank you.x xxx The Shurba Family
Posted by 
Neil 
on 
Apr 23rd, 2017
Great route, thanks to all that helped.
Posted by 
Steve lane 
on 
Apr 23rd, 2017
My first year of riding and will definitely be returning again next year, a great day for a worthy cause.
Posted by 
Suzanne Williams 
on 
Apr 23rd, 2017
The sun was shining and the Challenge was set. Hills were promised and hills were delivered…and then more hills…and then even more. You wouldn't think it was actually that hilly in Bolton! I was beaten by one hill, they tell me it was Foxholes. I don't really want to do it again, but then how can I be beaten by a hill? Even the steep downs were tough! Set up and marshalling was fab, even me, who always gets lost really couldn't. Signage was excellent (so long as you know your right from your left), volunteers en route were friendly, helpful and smiling. I had a great day, thank you all. I'll be practising hills all winter in prep for next year. Well done on a brilliantly organised event xx
Posted by 
Kelvin 
on 
Apr 23rd, 2017
Fantastic day. Very well organised again. Great to support such a great charity.
Posted by 
Chris Evans 
on 
Apr 23rd, 2017
Great day for a ride and managed to improve my last time so all round brilliant day – well done all
Posted by 
Sharon Ormston 
on 
Apr 23rd, 2017
Firstly, thank you for sorting out the weather! couldn't have been better.
Secondly, thank you so much for all the organisation and hard work that has gone into today.
The volunteers throughout were amazing and definitely spurred me on.
The route was tough (for me anyway) but I felt fantastic once I had completed, I will definitely be back next year.
Great day for a very worthy cause! x
Posted by 
David Stammers (Team ASL) 
on 
Apr 23rd, 2017
I didn't know what to expect from my first ride at the Lagans Challenge but the route looked a challenge (ridden in anger) and the promise of cake had me ready to go. It was indeed a good route, fantastically marshalled and signposted. The weather was glorious and overall a cracking day out. It was great to have the lead moto with us as more often than not they served to scout what was up ahead. Would ride again!
Posted by 
Scott Curds 
on 
Apr 24th, 2017
A fantastic event with an equally impressive route. Tough but stunning. The organisation was spot on and the Marshalls were all helpful and encouraging. My first year doing it but it certainly won't be my last for such a good cause. And I beat my sub 3 hour target…!
Posted by 
Jeff Glaister 
on 
Apr 24th, 2017
The second time I have done this event and once again I have to say everything was first class. The course is really tough, but takes you through some of the most stunning countryside Lancashire has to offer. The route was really well signposted, and with friendly marshalls at most junctions making sure we didn't get lost. All the marshalls offered words of encouragement as I passed them, so many thanks to them for volunteering their time to help us out. I managed to stay on my bike for whole ride, although it was touch and go on the Foxholes climb! I was quite pleased with my overall moving time of just less that 4 hours, just need to get more hills when training for next years ride to try to beat that! Thanks again to everyone for organising the event and my fellow riders for offering encouragement on the ride. See you all again next year!
Posted by 
Mark F 
on 
Apr 24th, 2017
Such a great event! The new start/finish area is so much better than the old one even if it does mean an extra couple of miles! A great course – really challenging but immensely rewarding. Well organised and all for a great cause. Cheerful marshals all over the place and a well-signed route meant I didn't get lost. The great weather helped the event feel good but taking time off your PB on a longer course always feels great! Well done team – see you next year!
Posted by 
Martin Richardson 
on 
Apr 25th, 2017
It was my first time this year, really enjoyed the route. The weather was perfect. The Marshalling, surrport and setup was excellent. Will be entering next year. Thanks.
Posted by 
Marc Clough 
on 
Apr 25th, 2017
Had a brilliant ride out , plenty of big hills great training for IMUK17 , was treated immaculately from the start to the finish, all the signs were perfect and I loved it bonus from me I was placed number 25 I had two major brain operations 2 years ago , so my recovery like this is good for me , hence the grammar above , maybe next year I'll win it , plus it is a great charity , well good many of good riders
Posted by 
Ste Holden 
on 
Apr 25th, 2017
Did this ride today with my two mates , was a tough 44 mile but very enjoyable & challenging route who ever mapped it out well done, the marshals did a fantastic job and there was plenty of them as well, plenty of signs so you don't do any wrong turns,& a nice bonus of a medal drink & food when you finish, and all for a very good cause
Posted by 
Allan Bell 
on 
Apr 25th, 2017
I was very pleased to be a marshal on Lagan's Foundation 42 mile, very lumpy, cycle challenge in Rivington. Well done to Carren Bell and her team for organising the event in memory of her baby daughter. The 80 cyclists loved the route.
Posted by 
Craig Singleton 
on 
Apr 25th, 2017
Brill day , all well organised A credit to everybody involved and also for a very good cause
Posted by 
Graham Balshaw 
on 
Apr 26th, 2017
Well done to Carren and her team for putting on a superbly well organised event. An incredible amount of hard work went into organising it not to mention the small army of volunteers and marshals that helped on the day.
Thanks to everyone that helped, on behalf of Team ASL we had a very enjoyable day and hope to be back next year.
Pass the word around and bring a couple of cycling friends with you next year.