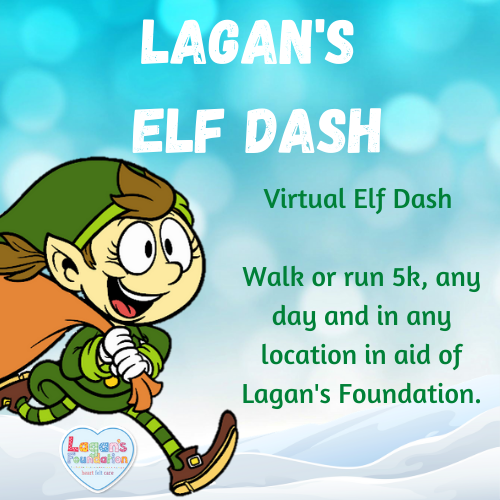 Lagan's Elf Dash 2020
Come and join our Elf Dash during December and complete 5K, your way!
Lagan's Foundation, like many charities have been hit hard this year by Covid19. All planned fundraising activities, challenges and events have been cancelled with no clear idea on when they may be able to restart.
So, we are asking this year you join us for a bit of fun and fundraising by joining our Virtual Elf Dash.
Throughout December we are challenging you to run, jog or walk 5k, you can complete this on any day, at any time and in any location of your choice.
Entry is only £12 (includes fees) and every participant will receive an Elf Hat, which we hope you will wear during your 5k and a Certificate of Participation at the end. All you need to is register your place, we will send you the hat and then send us a copy of your Garmin, Strava or any other tracker software showing your distance. Of course, we would love to see some photos of you completing the challenge too!!
We would also really appreciate any sponsorship or donations you may be able to collect towards this challenge. Every penny really does count, especially during these tough times. The best way to collect sponsorship is via our Elf Dash Campaign on Virgin Money Giving , it's really easy to set up and does all the hard work for you.
If you would like more information or assistance please contact Charlotte on 01204 800300 or email charlotte@lagans.org.uk